Shim Soo
Gum Do

© a super cool and creative website


email: srmaa@atlanticbb.net

Shim Soo Sum Do literally translates " the way of the Mind, Hand & Sword ". It is the name of a system of Sword Arts developed by Master Blaine Grissom that combines sport applications of the sword with practical applications. The curriculum uses both the bamboo sword and and the live blade. Train and test in this system via home study by purchasing the DVD's shown on this page.

Course instructed by
Master Blaine Grissom​
About the Instructor: Master Blaine Grissom

•Over 20 years of martial arts experience
•Founder of Lion's Den Martial Arts
•Founder of Hon Hab Moo Do Kwan Association
•Founder of International Combat SaJaDo Union
•5th Dan Tang Soo Do
•4th Dan Tae Kwon Do
•3rd Dan Hapkido
•Sandan Kobudo ( Okinawan Weaponry )
•Shodan Renzoku Jiu-Jitsu
•1st Dan HanKukMuKiDo ( Korean Weaponry )
•Certified Hapkido Instructor through World Kido Federation
•Certified Tang Soo Do / Tae Kwon Do Instructor through World Black Belt Bureau
•Certified in Kobudo weaponry through International Okinawa Kobudo Assc
•Certified Instructor Renzoku Jiu-Jitsu through IRJJA
•Certified in HanKikMuKiDo through the Korean Martial Arts Assoc.
•Inducted into ( AKA ) American Karate Assoc. Hall of Fame ( 2004 )
•Inducted into SRMAA Black Belt Hall of Fame ( 2004 ) Sr.Mstr.of Year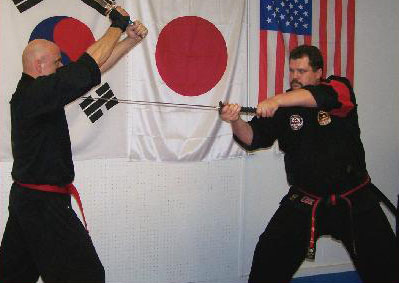 The 3 DVD Home Study Course on this page includes all material to grade to 1st Dan Black Belt in Shim Soo Gum Do. Testing and association membership optional.
Order Shim Soo Gum Do Black Belt Course here, only $85.00, free shipping !
The Way of the Mind, Hand & Sword ...
Order individual DVD's below: