SaJaDo

© a super cool and creative website


email: srmaa@atlanticbb.net

It is a name chosen by Master Blaine Grissom for a new martial art he founded based on the symbolic values of the Lion. Some of these values include respect, honor and courage.
The physical aspects of the art include techniques from : Tang Soo Do, Tae Kwon Do, Hapkido, Kodubo, Jiu-Jitsu, HanKukMuKiDo and KumDo. The art has been in development for 21 years but was unveiled for teaching others in 1998.
SaJaDo is governed by Lion's Den Martial Arts Assoc. and the International Combat SaJaDo Union. SaJaDo was officially recognized as a new style of martial art in November of 2003 by the International Combat Martial Arts Union.
Also, in February of 2005, SaJaDo was recognized as a new style of martial art by the International Head of Families Assoc. As a result, Master Grissom was recognized as the founder of SaJaDo and was bestowed the rank of 9th Dan.

Course instructed by
Master Blaine Grissom​

About the Instructor: Master Blaine Grissom


•Over 20 years of martial arts experience
•Founder of Lion's Den Martial Arts
•Founder of Hon Hab Moo Do Kwan Association
•Founder of International Combat SaJaDo Union
•5th Dan Tang Soo Do
•4th Dan Tae Kwon Do
•3rd Dan Hapkido
•Sandan Kobudo ( Okinawan Weaponry )
•Shodan Renzoku Jiu-Jitsu
•1st Dan HanKukMuKiDo ( Korean Weaponry )
•Certified Hapkido Instructor through World Kido Federation
•Certified Tang Soo Do / Tae Kwon Do Instructor through World Black Belt Bureau
•Certified in Kobudo weaponry through International Okinawa Kobudo Assc
•Certified Instructor Renzoku Jiu-Jitsu through IRJJA
•Certified in HanKikMuKiDo through the Korean Martial Arts Assoc.
•Inducted into ( AKA ) American Karate Assoc. Hall of Fame ( 2004 )
•Inducted into SRMAA Black Belt Hall of Fame ( 2004 ) Sr.Mstr.of Year














Order the complete SaJaDo Home Study Course here, specially priced at now just $109.95, save $40 plus free shipping !
SaJaDo literally translates to
" Way of the Lion "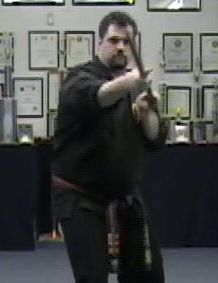 Get the SaJaDo Black Belt Home Study Course, 6 DVD set plus all testing prepaid through 1st Dan Black Belt, only $349.00 !