© a super cool and creative website

E-mail: srmaa@atlanticbb.net

About the Instructor:
Alberto Merlo of Italy has 20 years training experience in the Martial Arts, his accomplishments include;
Italian Docente Federale Istruttore 3 Krav Maga,
IPP Krav Maga International Master Instructor,
5th Degree Black Belt Kenpo Karate,
Mstr. Instructor RCQB,
FORSVAR Instructor,
Mizu No Kokoro Instructor,
3rd Degree Black Belt Karate,
Black Belt in Viet Vo Dao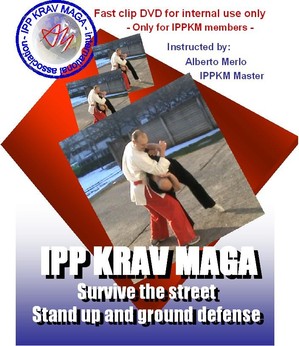 About Krav Maga : Krav Maga means " Contact Combat " in Hebrew. Krav Maga has it's roots in military combat, forged on the anvil of some of the most severe combat settings of this century. It generally consists of two parts: Self Defense and Hand-to-Hand Combat:

Self Defense : This generally consists of techniques which aim to enable those who have been training to defend themselves against an attack, avoid being injured and finish off an assailant. It includes a wide variety of attacks, armed and unarmed from various positions.

Hand-to-Hand Combat: A more advanced stage of Krav Maga, teaching one to quickly neutralize an opponent. The elements of this phase are more concerned with actual fighting, tactics, attack combinations and the psychological dimension of combat.

In Krav Maga we believe that simplicity is a determining factor in one's chances of survival.
I found that the quality of the products was very good. The video was clear and the sound was good; much better than many other courses that I have ordered. The instructor, Alberto Merlo, is a natural as a teacher. His instruction is easy to understand, the content of the material is very good, and I surmise very effective (hope I never have to find out). Well worth the money. / Jim C., Kentucky
A student comments...

Order the KRAV MAGA LE DVD's here, 3 levels on 2 DVD's,
free shipping, Law Enforcement Price only $59.95, free ship, or select
the DVDs with Prepaid LE Certification Exam option for $174.95, below:​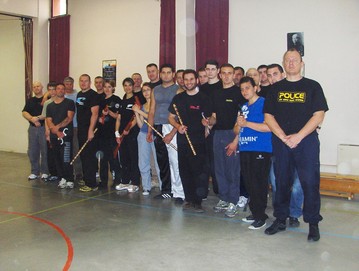 KRAV MAGA LAW ENFORCEMENT
CERTIFICATION AVAILABLE.​
Correspond directly with Instructor .​